Anonymous Hacks Russian Channels, Shows War Coverage on Ukraine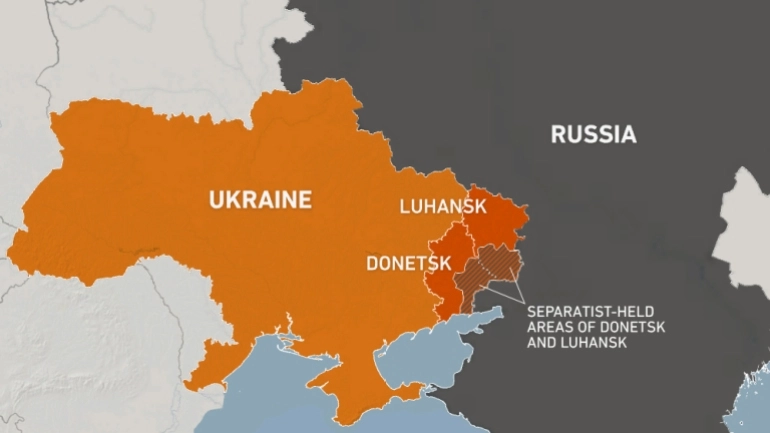 After days of continuous oppression in Ukraine, the members of the Anonymous group claim to hack the channels of the Russian State. The sole purpose to hack channels was to broadcast Russia's propaganda against Ukraine and expose Vladimir Putin's true face behind the invasion to his own people.
Following the sanctions from the west, Putin decided to block access to any foreign news and social media platforms. The Russian President wants to keep the Russians away from the other side of the story. Putin is criticizing US and NATO for his invasion of Ukraine.
Anonymous' video message was shown on various Russian channels including Russia 24, Moscow 24, Channel One, and streaming sites Wink and Ivi.
JUST IN: #Russian state TV channels have been hacked by #Anonymous to broadcast the truth about what happens in #Ukraine. #OpRussia #OpKremlin #FckPutin #StandWithUkriane pic.twitter.com/vBq8pQnjPc

— Anonymous TV 🇺🇦 (@YourAnonTV) February 26, 2022
The lower chamber of the Russian Parliament recently approved a new "Fake News" law that endangers those who post false news about the war which the government itself has declared false. If found guilty, they will have to pay a fine of $14,000 or up to 15 years in prison.
'Expect Us' – Cyberwar between Anonymous and Vladimir Putin
Earlier, Network Battalion 65 or 'NB65', which is affiliated with Anonymous, posted a tweet claiming to show server information for Roscosmos.
[email protected] #Ukraine️ #UkraineRussianWar
Shouts to: @YourAnonNews @ITarmyUA @kaspersky @DefenceU @Ukraine pic.twitter.com/if6vm1S0u0

— NB65 (@xxNB65) March 7, 2022
Hackers claimed that they took down the satellite and deleted all confidential files that contained information relating to the space satellites and Vehicle Monitoring Systems.
However, the head of Roscosmos: Director General Dmitry Rogozin denied the claim and called Anonymous 'scammers and petty swindlers'.
Apart from that, Anonymous has claimed the decision to disrupt the Russian air. They will cause cyber-attacks on Russia's banks, broadcasting channels, and the Belarusian rail network; which used to move troops from Russia to Ukraine. This would potentially create mass damage to the digital infrastructure of the country.
Anonymous declared a 'cyber-war' against Putin's government after he mounted a full-scale invasion of Ukraine. The current situation would affect Russians and could derail their privacy.
Conclusion:
Putin's regime has shown no respect for human rights, bombing several neighborhoods, and killing innocent people. West has already boycotted Russia and has imposed heavy sanctions. Even a large population of Russians are against Putin's actions.
The Russian government needs to start peace talks with Ukraine as soon as possible. Otherwise, they could face unprecedented cyberattacks. On top of that, with hefty sanctions from all over the world, the country would face further consequences.