The Best VPN Protocol-An Ultimate Guide!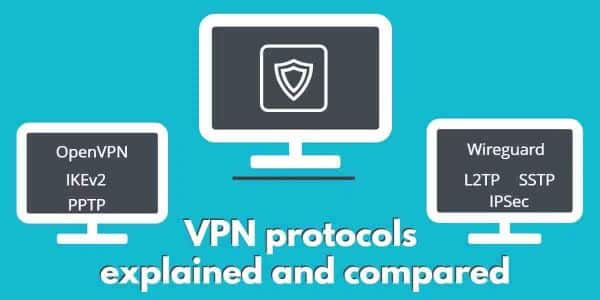 Considering the immense importance of online privacy, users are looking for ways to protect their online presence. One such means is to use a VPN. Using a VPN has become the need of the hour. It is the only security tool that guarantees robust security. Several VPNs are available in the market, but users need to choose the best VPN protocol per their need to get most of them.  If you're new in the tech world, then you've landed at the right place. This guide is all about different VPN protocols, along with their pros and cons. But before getting into it, let's first discuss what VPN encryption is all about. So, let us dive into this article.
What is VPN Encryption?
VPN uses an encryption method to protect the users' data when it travels from the encrypted tunnel. When you connect to a VPN on your device, all your traffic undergoes encrypting, and then it is sent to the VPN server. No one can ever view your data when it's encrypted. Only if someone knows the decryption keys, then it is possible. But what's encryption? VPN encryption is the process of changing your data into an unreadable form. The primary purpose is to prevent any unwanted parties from accessing it. When your data passes through the tunnel so, then your ISP can see you're using a VPN. But they can't view your activities. VPN encryption uses different protocols that decide how to secure the tunnel. Each protocol varied in capabilities, speed, and even security flaws. During data encryption, each protocol uses a unique algorithm. The algorithm is a cipher that encrypts or decrypts the data. There are three different types of VPN encryption ciphers. AES, Camellia, and Blowfish are three ciphers. The most widely used is the AES (Advanced Encryption Standard)  cipher.
What is a VPN Protocol?
A VPN is a privacy-boosting software that encrypts the data traffic and sends it through the VPN server. The VPN protects users' data by using the process of encryption. The encryption process uses various encryption or VPN protocols.  There are six different VPN protocols that a VPN uses. Each protocol has its pros and cons. In this section of the guide, I'll explain these protocols. For choosing the best VPN for yourself, it's essential to know the difference between all of them.  The protocols are as follows:
OpenVPN
PPTP
SSTP
IKEv2
L2TP
WireGuard
Now, let's discuss them in detail.
OpenVPN
It is a short name for the open-source virtual private network. It is open-source software that uses SSL protocol. By this protocol, it ensures that the traffic privately passes between the two devices.  The OpenVPN is a popular, reliable, and industry-standard protocol. It is fast and capable enough to provide robust security and encryption level to the users. It uses military-grade AES-256 bit encryption by OpenSSL. Almost all service providers come with OpenVPN protocol. It is compatible with Android, Windows, and Linux except for macOS and iOS. Sometimes you need extra software to install it on macOS and iOS.  OpenVPN comes with two different ports:
OpenVPN-TCP: This protocol is for security purposes. By connecting to this server, each packet is first approved by the receiving party. In this way, it makes the connection secure, but the process is slow.
OpenVPN-UDP: It ensures fast speed. It is faster than the OpenVPN-TCP port. In this, the data packets are sent without asking for approval from the receiving party. But, it is fast but less secure than the OpenVPN-TCP port.
Security experts are always looking for new ways to improve the protocol. They are fixing the vulnerabilities to give outstanding results in all aspects.
Pros:
Available in all VPN providers
Compatible with all major devices and platforms
Provides high-level encryption
Safe and reliable
Security experts are evaluating it for improvements.
Cons 
Requires extra software for installation
The Setup process is a bit technical.
PPTP
A team led by Microsoft developed the Point to Point Tunneling Protocol. It is the oldest tunneling protocol that offers fast speed and is easy to use. It provides both remote and site-to-site access to the VPN over the internet.  The PPTP protocol, does not have much high-level encryption, and thus it's the fastest protocol. It requires only the username, password, and server address to create a tunnel.  The VPN tunneling protocol is easy to set up and doesn't need any extra software for installation. It allows quick connection and is popular among both business and commercial users. It is the only VPN protocol that relies on various authentication methods to provide the most security. The protocol uses a 128-bit encryption key, and that's way not wholly secure.  The VPN is compatible with all other devices and systems. But, this protocol comes with some vulnerabilities. The network that uses PPTP requires extra security practices to provide reliable security. But, in doing so, you lose the advantages that the protocol aims to provide. Moreover, the firewalls that block the VPN users recognize all the PPTP users. Hence, I do recommend using this protocol, where security is not your primary concern.
Pros 
Fast
Compatible with all major devices, operating systems, and platforms
Simple to configure
Cons 
Basic encryption level
Hackers often comprise PPTP security flaws.
Gets blocked by Firewalls
Not much secure
L2TP
The Layer 2 Tunneling Protocol combines with another IPSec protocol to safeguard users' data. It is much faster and more secure than the traditional PPTP. Also, it provides enough confidentiality and encryption for passing the traffic to the VPN server.  It is a by-default protocol in most operating systems and is easy to set up and use. If OpenVPN and IKEv2 protocols are absent, then L2TP/IPSec is the most preferred option to use. Although it provides slow speed, the overall connection is secure and private.  This protocol captures the data twice, so it fails to provide a fast connection. The L2TP uses the AES cipher and has no significant security flaws. But, the security experts have talked about it being compromised by the NSA.  Furthermore, some firewalls can block users using this protocol. It is because the L2TP uses UDP 500 port and which most websites block. Despite having some technical issues, it is secure to use. It's also compatible with most devices and OS so, it's the right choice to use.
Pros
Compatible with other OS and platforms
Reliable encryption than PPTP
Cons 
Firewalls can detect it.
Slow speeds
Exploited by NSA
SSTP
Microsoft developed the Secure Socket Tunneling Protocol to protect users' online activities. It uses strong encryption, which makes it one of the most secure tunneling protocols. By default, Windows 7, 8, and 10 supports it, making it easy for Windows users. It is easy to set up and uses SSL to secure web connections.  The best thing about SSTP is that you can use it instead of PPTP and L2TP/IPSec. It is beneficial as they can't get blocked because the traffic redirects over the HTTPS connection. Moreover, it also uses SSL v3, which helps to block the NAT firewalls.  SSTP is a proprietary technology by Microsoft. It is challenging to perform an independent evaluation of the codes behind and detect security flaws. Furthermore, being a Windows product, it is more compatible with Windows. Though it works with macOS and Linux, the results are not very effective. It is secure to use and has similar advantages to OpenVPN, but Microsoft's proprietary technology is a worrying point.
Pros
Easy to set up and use
Owned by Microsoft
Provides enough security
Surpass Firewalls
Cons 
Not useful on other platforms.
Vulnerable to attacks
IKEv2
The Internet Key Exchange Version 2 is not a tunneling protocol, but it functions like the one. When you use this protocol, the IPSec protocol encrypts it first and then sends it to the encrypted tunnel. From here, your data traffic passes to the VPN server. It uses port UDP 500, which means that still, some firewalls can block it.  The presence of IPSec makes it a secure VPN tunneling protocol. The IPSec comes with stable encryption patterns that guarantee robust security. IKEv2, when combined with IPSec, provides consistent speeds, stability, and easy usage. It also supports the mobility and multihoming protocol due to which it is resilient to different networks. If you want to use it on your mobile phone, then IKEv2 is the best choice to use. You can easily switch between your home Wi-Fi network and mobile network.  The only drawback of the IKEv2 protocol is that it is vulnerable to hackers when used with weak passwords.
Pros 
Consistent speed
Ease of use while switching the connections
Fastest VPN protocol
High encryption level
Simple to use
Supports other encryption protocols
Cons 
Limited configurations
Only supports only limited platforms.
Vulnerable to hackers
WireGuard
It is a new VPN tunneling protocol that is still in its developing phase developed by Jason Donenfeld. The WireGuard protocol is the safest after OpenVPN. It is because it is UDP-based that it has built-in stealth and bypasses all firewalls.  The tunneling protocol is smaller than OpenVPN and IPSec as its code size is only 3782 lines. It uses SSH authenticated keys as its authentication model. It promises to solve the speed issue caused by various VPN providers.   The WireGuard protocol uses a ChaCha20 cipher. It is not much common but is competitive with AES. But, it is three times faster and more robust, and thus, WireGuard is the most secure and fast protocol of the future.  It was mainly designed for the Linux platform. But now, Android, macOS, and Windows are also using it. Being in the development stage, most VPN providers use it for experimental purposes. At present, it only supports the static IP address, but as a whole, it is a fast VPN protocol.
Pros
Fast and open-source protocol
Small code makes it easy to detect flaws.
Third generation protocol
Cons 
It is in the development stage.
Not compatible with a zero-log policy.
Which is the Best VPN Protocol?
Each protocol has a different function and worth. All are best in one way or the other. But, if we compare so, the best of all is the OpenVPN protocol. It is not just the best but also the safest one.  It is an open-source protocol that uses the AES-256 cipher. When tested, OpenVPN didn't have any severe flaws or vulnerabilities. It provides a complete balance between performance and privacy. It comes as a by-default protocol in many VPN providers. Moreover, it is compatible with all major devices and platforms, making it the best choice to use.  The other best one is WireGuard. Although it is new, it is a formidable contender to OpenVPN. The IKEv2 is yet another best VPN protocol. It is the most preferred choice for mobile phone users. It makes the connection switching an easy task and comes with consistent speed.  Besides speed and security level, here are other things as well, that you need to consider for choosing the best VPN protocol.
Implements Perfect Forward Secrecy
Uses SHA-2 authentication
Uses robust key exchange protocols (RSA-2048 or ECDH).
Quick Comparison Table
Here's a quick overview of all the VPN protocols.
| | | | |
| --- | --- | --- | --- |
| VPN Protocol | Encryption Standard | Connection Stability |   Speed |
| OpenVPN-TCP | 256-bit | Very Stable | Standard |
| OpenVPN-UDP | 256-bit | Stable | Fast |
| PPTP | 128-bit | Very Stable | Very fast |
| L2TP/IPSec | 256-bit | Stable | Standard |
| SSTP | 256-bit | Very Stable | Fast |
| IKEv2/IPSec | 256-bit | Very Stable | Very fast |
| WireGuard | ChaCha20 cipher | Very Stable | Very fast |
Parting Words
A VPN protects your data from all spying eyes. To do so, the privacy tool uses tunneling protocols that hide your browsing activities. When choosing a VPN, tunneling or VPN protocols play a vital role. There are six various VPN protocols. Each of them has its function, advantages, and disadvantages.  Among all the best VPN protocols is OpenVPN. It is the most secure and