The Best VPN For Kodi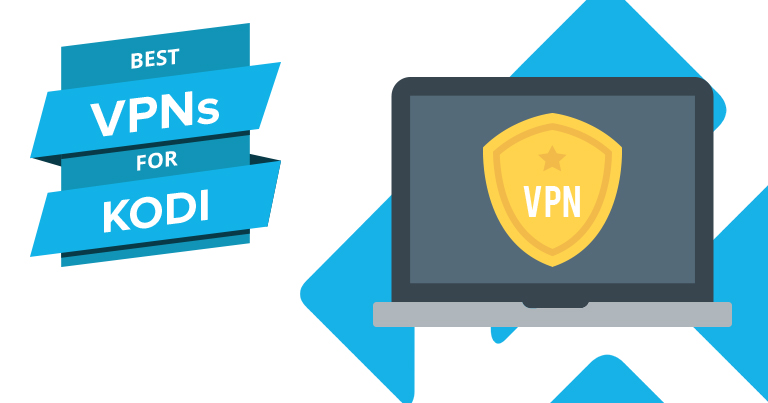 Several different kinds of VPN availability in the market make it challenging to choose the best VPN for Kodi. Choosing the right VPN for Kodi is not as easy as picking up a VPN for Netflix. For Kodi, you need a fast, secure VPN, that is compatible with all major devices and platforms. This article informs you about the best VPN for Kodi, along with how we selected those VPNs. If you stream on Kodi, then you should use a VPN. A Kodi VPN boosts your online security and privacy by maintaining a stable connection speed and not affecting your streaming experience.
There are dozens of VPNs in the industry that claim to work well on Kodi, but trusting them straight away is a foolish act. Thus, we first undergo a reviewing stage. We reviewed several VPNs on various aspects and ended with the five best VPNs for Kodi. Before we get into these VPNs, let's first discuss the need to use a VPN on Kodi.
Why Use a VPN on Kodi?
Kodi is a streaming device that allows you to stream a wide range of streaming content. But because of geographical restrictions by the ISPs, it is not easy to use Kodi and do whatever you want to do. The regional ban can limit you from accessing your favorite TV show or movie on Kodi. Here a VPN comes into play. It is an ideal option that keeps you anonymous over the web. When you're using a VPN, no one can see your online activities and misuse your data.
A VPN encrypts the data traffic so that it becomes impossible for any watchful eye to decrypt it. When you use a VPN on Kodi, it replaces your actual IP address with the one provided by the VPN server. As a result, you look like you are streaming on Kodi from other locations. Also, a VPN allows you to bypass geographical restrictions. The best VPNs for Kodi enable you to access the geo-blocked content and open you to a vast library of streaming content. Hence, for this, you need a VPN on Kodi because otherwise, you can't stream freely.
Our Criteria to Select the Best VPNs for Kodi
As mentioned before, tons of VPNs are available in the market, but not all of them are suitable for Kodi. If you want to have a VPN on Kodi, you need to analyze a VPN on unique features. To make your work much easier, we've selected the five best VPN for Kodi on criteria. Below are our criteria on which we've examined several VPNs before coming to the final verdict. The points on which we tested the VPNs include:
• Speed: Fast connection speed is an essential point when you select a VPN to use on Kodi. Ensure that the VPN you use is free from connection lags and offers consistent speed throughout the servers.
• Robust Security: Always use a VPN that provides military-grade encryption. Do check the security protocols and the advanced security features it offers.
• Logging Policy: Using a VPN that belongs to a safe jurisdiction is another crucial aspect you should consider. Try to avoid using service providers that belong to a country that is a part of the global surveillance alliance.
• Compatibility with Kodi Devices: If a VPN isn't compatible with the Kodi device, there is no use for it. Check device compatibility before you make a final decision.
• Ease to Use: The VPN you choose should be easy to set up and use. It shouldn't put the users into much hassle.
Best VPNs For Kodi
The mentioned below are the five best VPN for Kodi. All these VPNs are first tested on our criteria before we make any recommendation. These VPNs won't let your ISP or any other watchful eye spy on your activities. Now, let's review each Kodi VPN in brief.
IPVanish
The first one on our list for the best Kodi VPN is the US-based IPVanish VPN. It is one of the most widely-used and secure Kodi VPN. Regardless of belonging to the US jurisdiction and the logging incident in 2016, IPVanish is now free from retaining users' logs. It is a private VPN that is safe to use for Kodi. It is highly compatible with Kodi, and the Kodi add-ons allow you to watch a wide range of streaming content.
You can use IPVanish on Kodi on Android, macOS, Amazon Fire Stick TV, and Windows. The software is easy to install. By just clicking on the download button, you can install the VPN on your device. It has apps for various platforms that make your streaming experience worth amazing. Besides this, IPVanish is a fast VPN but not the fastest. The speed it offers is enough to stream on Kodi. If you only want to use IPVanish for streaming on Kodi, then it is the best option.
Moreover, it is a safe VPN in all aspects. It uses AES-256 bit encryption along with OpenVPN protocol along with IKEv2 and L2TP/IPSec. Also, the presence of security boosting features like a kill switch, SOCKS5, IP leak protection, and an ad-blocker makes it a perfect choice for Kodi.
NordVPN
The Panama-based NordVPN is another best VPN for Kodi. The VPN is famous for its super-fast speeds and advanced security features. It is the fastest VPN and, because of this, is the best choice for streaming on Kodi. If you want a quick connection without any buffering on Kodi, then we recommend you use NordVPN. The service provider belongs to a safe jurisdiction that falls outside the surveillance alliance group. Furthermore, it doesn't store any activity logs.
It means all your activities, and essential data remain hidden, and nobody can ever know about it. NordVPN comes with a variety of security features. All these features, whether it's a kill switch, smart DNS tool, split tunneling, or port forwarding option, make your streaming Kodi experience unique. The service provider is compatible with various streaming devices, including Kodi. The P2P-optimized servers make it highly compatible with Kodi.
The app is easy to use and install. The P2P optimized servers, fast speed, and advanced security features make it an ideal VPN for Kodi.
ExpressVPN
The British-Virgin-based ExpressVPN is an excellent option to use for Kodi. ExpressVPN is among the fastest VPN that offers reliable and consistent speed throughout the servers. The presence of advanced security features allows watching all types of content on Kodi. The service provider has special apps that are all easy to install and use. It belongs to a privacy-friendly jurisdiction that doesn't store any activity logs. It uses AES-256 bit encryption and has various security features like a kill switch, VPN leaks protection, smart DNS tool, double VPN, and more. All this ensures that no one can detect you while you're streaming on Kodi.
SurfShark
SurfShark is the most affordable VPN among the top-tier VPN providers. It is the fastest VPN that allows streaming on Kodi without any speed issues. The service provider uses the industry's highest encryption standard to ensure that it is a safe VPN to use that doesn't compromise users' security and privacy. Like ExpressVPN, SurfShark also belongs to the British Virgin Island, and it is a secure place to use Kodi.
The country falls outside the jurisdiction of the global surveillance alliance. It also means that it doesn't keep users' logs that can reveal their identity. The VPN provider offers fast speeds that are ideal for streaming on Kodi. Also, it uses robust security features that are available for all devices like Android, iOS, macOS, and Windows, which make it a perfect Kodi VPN.
CyberGhost
The Romanian-based CyberGhost is yet another best VPN for Kodi. It offers excellent encryption and security features that make sure your identity remains secure throughout the streaming experience. The service provider provides fast speeds that are great for watching content on Kodi. Its headquarter is in Romania, which falls outside the five eyes, nine eyes, and 14 eyes group; it is safe to use.
Moreover, the service provider follows a strict no-log policy under which the VPN doesn't keep any users' log. Furthermore, like other VPN mentioned above, CyberGhost is also compatible with Kodi. It bypasses regional censorship and allows the user to stream various types of content on Kodi. The VPN doesn't leak your IP address or DNS, which means nobody can ever identify you while you stream on Kodi.
How to Install a VPN on Kodi?
The easiest way to set up a VPN on Kodi is by using the VPN. All you need to do is download the VPN and connect with the server of your choice. Here, the issue is that not all VPNs come with a dedicated VPN app. But, the ones mentioned above do come with a VPN app. So, follow the steps below and set up a VPN on Kodi:
1. Subscribe to a reliable VPN provider from the mentioned-above list.
2. Visit the official website of the VPN you're using. Download and install the app on your device.
3. Next, open the app and fill in your login credentials.
4. Select the server you want to connect to and then tap to connect.
5. You have successfully installed a VPN on Kodi. You can now stream on Kodi anonymously.
FAQs About Kodi VPNs
Is using Kodi legal? Yes, Kodi is open-source software that is legal to use in any region of the world. You can download and install Kodi from its official website and can even use the sanctioned add-ons. Which is the best VPN for Kodi? All the five mentioned-above VPNs are the best to use on Kodi. But, my personal favorite is IPVanish. It is highly compatible with Kodi, uses robust encryption, and follows a no-log policy.
The best thing which makes it stand out other than Kodi VPN is IPVanish's compatibility with Kodi. Can you use a free VPN with Kodi? The VPN industry is full of VPNs, both free and premium ones. Although the free VPNs sound very tempting to use, you shouldn't use them ever on Kodi. It is because of the lack of limited data allowance and lack of advanced security features. Using a free VPN means you are allowing the trackers and advertisers to target you, and even the watchful eyes get to know about your online activities.
How to set up a VPN on a Kodi device? There are five different methods of installing a VPN on Kodi. Among all, the simplest way is to install the VPN software on your device. Install the app, turn it on, and connect with the Kodi app.
Final Thoughts
Towards the end, I can hope that you've got the knowledge about the best VPNs for Kodi by now. Choose any VPN for Kodi and make your experience worth amazing. Don't forget to share your thoughts about the best Kodi VPNs below in the comment section.